MyKnowledgeMap, creators of ePortfolio Myshowcase.me, have now launched 'Progress Views' within the platform, providing an easy-to-use visual dashboard of learner progress and performance all in one place.
Our Progress Views give you the ability to view performance in real-time, assess and grade learning evidence as well as provide timely feedback against a learning framework or standards - all within a user-friendly dashboard designed with both educators and learners in mind.
ePortfolios, such as Myshowcase.me, are becoming a fundamental tool for enabling learners to collect and display evidence of work and achievement, record progress and set learning targets.  In this way, ePortfolios support a process of reflective learning, as well as both personal and professional development in a range of educational programmes, from schools, apprenticeships, higher and further education, all the way through to the workplace1. Indeed, when using an ePortfolio, learners have been shown to further develop reflective and evaluation skills, as well as achieve higher levels of achievement, especially with visibility of their current levels of performance2.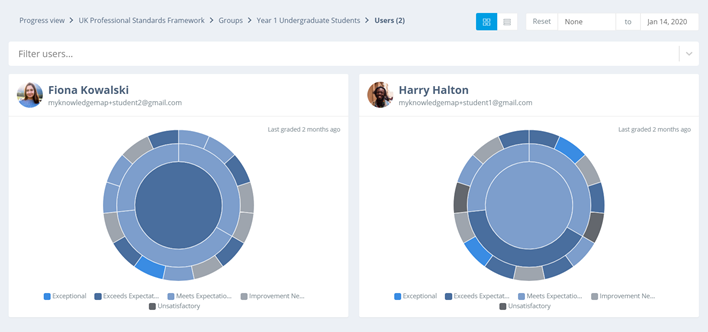 - Review and monitor learner performance and progress instantly.
Designed so that educators, employers and learners can easily track progress and performance in a highly visual display, Progress Views revolutionise the way we support learners through:
ENHANCED LEARNER SUPPORT

- A single space in which educators can easily view and determine all of their learner's progress and performance, enabling them to provide the right level of support at the right time

TIMELY & QUALITY FEEDBACK

– Educators can review learning evidence and progress against learning frameworks for learners in real-time, enabling them to provide timely and qualitative feedback

IN-BUILT GRADING SCHEMES

– Easily define and build your own grading schemes associated with a learning framework, Progress Views then uses the grading scheme alongside the learning framework to create an interactive visual display of a learners' performance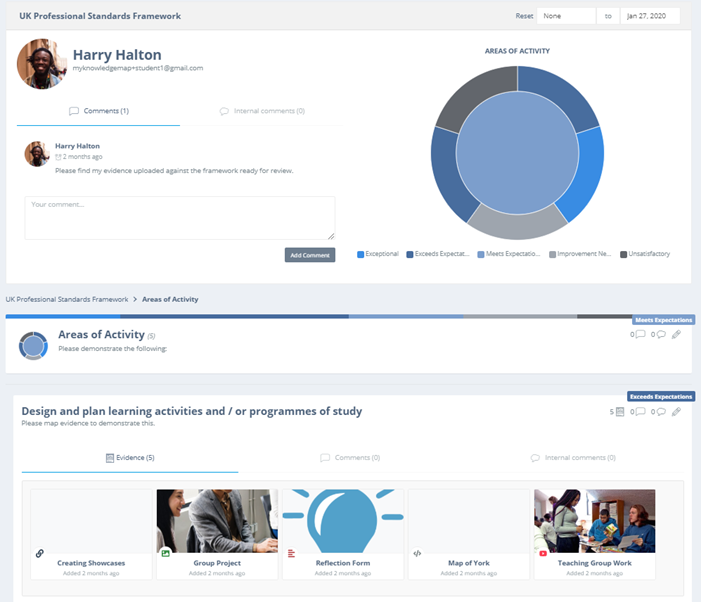 - Learners can upload a variety of evidence to learning frameworks which educators can then evaluate, grade, and provide feedback on.
IMPROVED LEARNER ENGAGEMENT

- With a clear visual display of progress and timely feedback against their learning outcomes, learners are better equipped identify learning gaps, take action and plan ahead.

EASILY UPLOAD A RANGE OF EVIDENCE

- Support learners in uploading a huge variety of evidence types and mapping these against learning frameworks in Progress Trackers. me supports everything from videos, images and standard file types, to YouTube videos, Prezi presentations, Google Maps and more.

REFLECT ON PROGRESS

– Progress Views include a dedicated area for learners to reflect on their progress as well as enable learners to complete reflection forms you assign them and map these against their learning framework for review.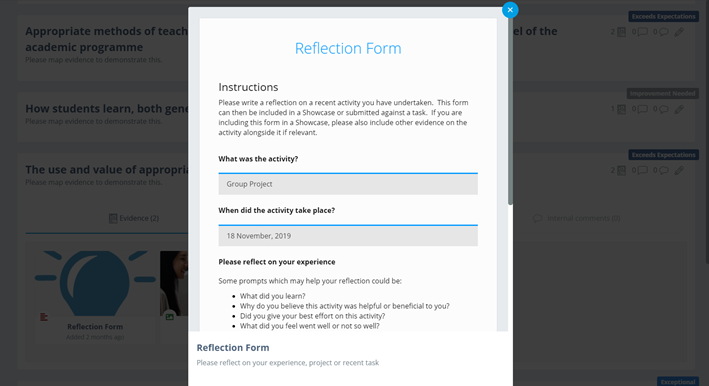 - Educators can create and issue reflection forms to learners so they can reflect on their progress at key milestones.
If you would like to learn more about Myshowcase.me and Progress Views or request a demonstration, get in touch with us on +44 (0)1904 659465 or drop us an email on info@myshowcase.me and we can get you started.
---
References 
1How to enhance student learning, progression and employability with e-portfolios. [online] Available at: https://www.jisc.ac.uk/guides/e-portfolios [Accessed 5 Dec. 2019].
2Zeer, E. and Stepanova, L. (2018). PORTFOLIO AS AN INSTRUMENTAL MEANS OF SELF-EVALUATION OF EDUCATIONAL AND PROFESSIONAL ACHIEVEMENTS OF STUDENTS. The Education and science journal, 20(6), pp.139-157.
Free Guide to Functions & Features
Want a little more detail on the functions and features in Myshowcase.me? Our handy guide provides a checklist of features for learners, educators and administrators.
We hope you find it useful on your journey to discovering the right ePortfolio for you!