Design, create and issue digital badges with forms and tasks - all in our ePortoflio, Myshowcase.me.
Open Badges are digital badges used to recognise, motivate and celebrate learner achievements. These digital badges all have valuable data and information "baked" inside them - making them much more than just an image. This information includes badge criteria, who it was awarded too, and who issued the badge, making your digital badges unique, secure and verifiable.

- an example of how Open Badges appear in Myshowcase.me 
Now, there are many ways that Open Badges support learning and recognition - from summer reading programs to learning milestones, continuing professional development (CPD) and more. This is why IMS certified Open Badges have been added to our powerful ePortfolio for lifelong learning, Myshowcase.me
Thanks to the inclusion of Open Badges, Myshowcase.me users can:
Easily design and build unique badges with our in-built badge designer
Create tasks for learners to complete and automatically receive a badge
Reward digital badges to recognise soft skills and technical skills
Attach badges to grading schemes to award a digital badge based on a grade achieved
Award discretionary badges where you feel a learner has exceeded expectations
Ask learners to complete a form or submit an online presentation known as a showcase in Myshowcase.me that result in the learner receiving a badge
You can do all this and more, and with no 3rd party integration needed; you can get started straightaway!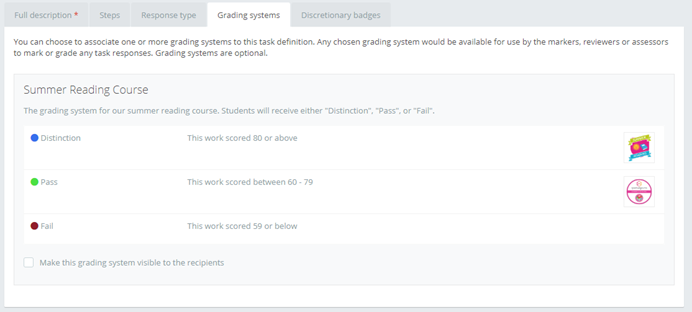 - attach badges to your grading systems and even reward learners with discretionary badges
Why should I issue Open Badges?
Open Badges allow your learners to demonstrate their development and skills such as communication, teamwork, and more. After receiving an Open Badge, recipients can share their badge to prospective employers, social media followers, recruiters, colleagues, educators and more. With ever increasing skills gaps in various job markets, a digital badge can really set your learners apart from the crowd.
-  Your learners can share their badge on blogs, websites, and social media channels such as Twitter and LinkedIn. In addition to this, with Myshowcase.me, learners can also show off their badges in their own personal ePortfolio.
-  Learners can create a digital CV and add their collection of badges to demonstrate a specific skill or area of knowledge
-  Learners can easily design and build an online presentation known as a showcase to display their badge alongside the evidence of what they did to earn it
-  Learners can collect their badges in their own personal badge backpack in Myshowcase.me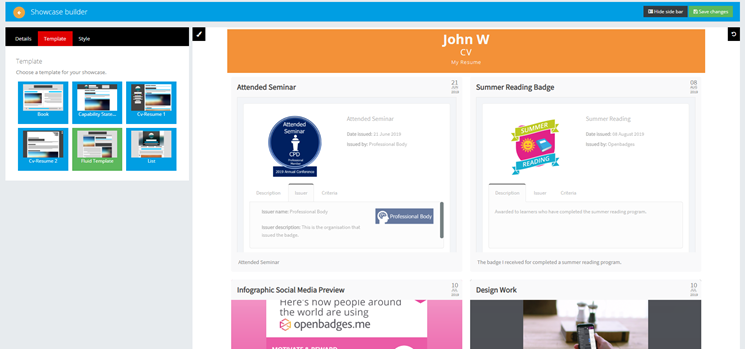 - a digital CV with Open Badges
How does it work?
Request a demonstration to see Myshowcase.me and Open Badges working together. Drop us an email at info@myshowcase.me and we'll take you through everything!
Free Guide to Functions & Features
Want a little more detail on the functions and features in Myshowcase.me? Our handy guide provides a checklist of features for learners, educators and administrators.
We hope you find it useful on your journey to discovering the right ePortfolio for you!